Webinar 1 – Mail Piece Design
April 18, 2019 @ 10:00 am

-

11:00 am
Webinar 1 – Mail Piece Design
April 18
Speaker – Jennifer Hoyer
Registration is required – Please email Lisa Sparrow to register for webinar also include the names of the people attending the webinar
Lisa.x.sparrow@usps.gov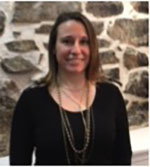 About Jennifer:
Jennifer Hoyer, an expert in presort mail services for the past 20 years, is the Customer Support Manager at Corporate Mailing Services, Inc. (CMS). At CMS Jennifer works with customers to improve mail quality and reduce postage costs. Prior to joining CMS in 2014, Jennifer worked as the Executive Customer Service Manager at Pitney Bowes Presort Services managing over 2 million pieces of mail daily.
Jennifer is active in the Postal Customer Council (PCC) and currently serves as the Industry Vice-Chairperson for the Greater Baltimore PCC. She is also certified by the USPS as a Mail Design Professional.
In her free time, you can find Jennifer at the gym where she teaches kettlebell and mobility classes, or spending time with her daughter, Ashley.