MDP Study Group at CMS
July 24 @ 9:00 am

-

4:00 pm
Location – Corporate Mailing Services
Cost – $125 per person includes exam and lunch
Hosted by: Jennifer Hoyer
To register contact Jennifer Hoyer at jenh@whycms.com
---
Overview:
Would you like to increase your value as a mailing industry professional? If so, the Mail Design Professional (MDP) may be right for you! This course is ideal for people new to the industry, seasoned veterans, and basically anyone looking to increase their proficiency in designing letter and flat-sized mail to meet USPS standards. The course includes:
• Addressing Standards
• Mail Classes
• IMb and IMpb Placement & Specifications
• Automation Design (Tabs, Deflection, etc.)
• Reply Mail (Courtesy, Business, etc.)
• Move Update Requirement
The GBPCC will be holding an MDP Certification Study Group on Friday, July 24, 2020 from 9:00am – 4:00pm in the Baltimore area. It will be a teach & learn format followed by an open book exam. Each attendee will be responsible for preparing one module in advance of the study group and sharing the important facts with a 20-minute summary to the rest of the group.
The cost to attend is $125 and includes the exam as well as lunch. Please RSVP by Wednesday, July 1st in order to obtain the exams and allow attendees time to read and prepare their module summary.
The course will be led by Jennifer Hoyer, Customer Support Manager at Corporate Mailing Services, Inc. Jennifer has nearly 20 years mailing industry experience and has held/maintained MDP Certification since 2006. Most recently, she held a study group for CMS employees and customers. This USPS Certification is valid for a period of 2 years and must be renewed by retaking a course/the exam.
---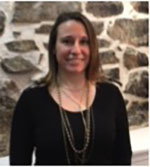 Jennifer Hoyer, an expert in presort mail services for the past 20 years, is the Customer Support Manager at Corporate Mailing Services, Inc. (CMS). At CMS Jennifer works with customers to improve mail quality and reduce postage costs. Prior to joining CMS in 2014, Jennifer worked as the Executive Customer Service Manager at Pitney Bowes Presort Services managing over 2 million pieces of mail daily.
Jennifer is active in the Postal Customer Council (PCC) and currently serves as the Industry Vice-Chairperson for the Greater Baltimore PCC. She is also certified by the USPS as a Mail Design Professional.
In her free time, you can find Jennifer at the gym where she teaches kettlebell and mobility classes, or spending time with her daughter, Ashley.